BERTEJAURE FARM - STORIES IN LAPLAND
Local farming, guided tours, food crafts, storytelling and fishing camp.
- I rent out my heritage to you who show consideration for the culture of the mountain people and want to help me conduct sustainable fishing at the foot of the mountain, Urban Berglund, host.
Tell me, who are you?
My name is Urban Berglund and I am the owner of Bertejaure farm. I am basically a trained drama teacher, which I worked with for many years in Umeå. My parents were the ones who built up Vindelåforsen's holiday village in Ammarnäs. My journey in tourism started in 1990 when my parents wanted to retire. I promised at the time to test whether tourism was for me, and the experiment is still going on today 32 years later.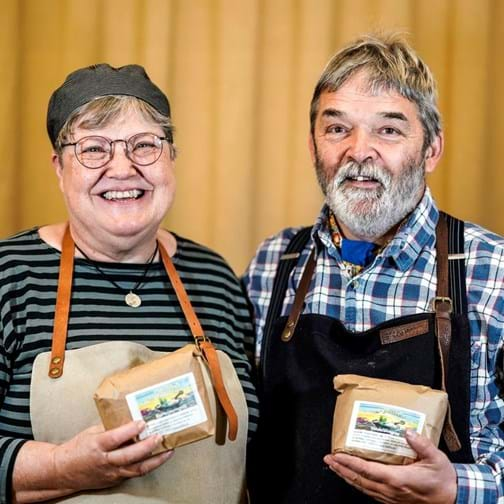 For the first 20 years I worked together with the artist Marita Nordin and we launched "Art and Accommodation" and courses in personal development. In 1997, we inaugurated "Kärlekens Tröstloge" a cultural center for important meetings a year later, the art exhibition Skulpturum was inaugurated. These houses are still included in our range of activities, even though Marita has left us after a period of illness.
My name is Christina and I am originally from Värmland. I am a trained administrator and tourist guide and moved up to Urban in Ammarnäs in January 2019.
In my luggage, I had, among other things, an idea for a porridge mixture that I had eaten for a few years. It was only when I arrived in Ammarnäs that all the pieces fell into place, I got hold of a suitable flake mill and I created Bertejaure porridge and Vindelev porridge in my company Fjällfrö.

Tell us about the place Bertejaure
Urban: Bertejaure is the name of a mountain lake where our ancestors started as settlers in 1881. Great-grandfather also built a farm down in Ammarnäs and on the map you can see that our homestead is called Bertejaur, just like the lake. My grandfather became a widower during his life and farming fell fallow and my father who took over found work everywhere in Sweden until 1976. Then he moved back home and started with tourism. When I was growing up, our fishing in the mountain lake Bertejaure was part of the family's self-catering.
Today, we rent out our heritage to those who take into account the ecology, to the culture of the mountain people and to those who promise to fish in a sustainable way. Bertejaure is today the place where we have started to grow the raw materials for our Café – as you can hear, after several generations of miscellaneous work, the family has reconnected with agriculture.
Tell us about your company, what do you offer your guests?
A guest can rent their holiday cottage with self-catering, by staying on the farm, down here at Vindelåforsen in Ammarnäs.  For those interested in fishing, there is the opportunity to follow me on a guided tour to Bertejaure fishing camp. There you who like culture can listen to my guided stories about life stories from our village, about Ryp-Josef, Blomster-Lotta or the inventor Aslak Partapuoli.
Together we make "Kafferep" - an arrangement where we mix coffee with stories based on different themes.  Both Christina and I are storytellers and also authorized Sweden guides through Sveguide and we are both passionate about storytelling.
In addition to being a porridge manufacturer, I (Christina) also run café Vindelälvan together with Urban. I bake everything we sell in the café – bread, cakes, pastries and cakes. Mainly with ingredients from the farm or the mountain and always from baked from scratch. This summer we hope to have an employee, so that I will be more free to bake, pick ingredients in both nature and in our farms. There will be more and more cakes on order for birthday celebrations and this summer also cakes for a wedding. It's so much fun!!
Just before the pandemic hit, we arranged a  coffee meeting a "kafferep" with the theme forest. There were pastries, stories and songs within the theme. We had intended to continue, but then it didn't work out anymore. But we hope to take up these plans again in the fall.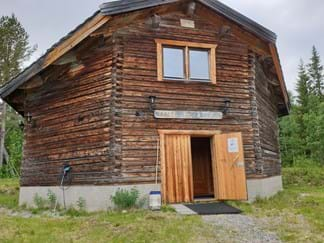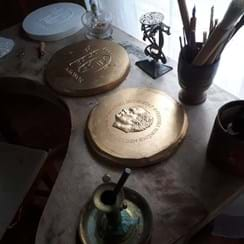 Tell us about a typical day
We have been working with sustainability in focus since 1993 and have received a diploma within "Västerbotten Experience", which is a regional sustainability label. Most of the practical work in the company I am involved in - cleaning, repairing, refilling, sorting at source, washing, shoveling snow, etc. Most days I usually sit at least an hour behind the desk with bills, government mail, guests' inquiries and bookings, various telephone contacts and project work. Right now it's May and then the snow thaws away and I do a briefing in the cabins for the summer season. Today it became a new shelf for a kitchen in one of the cottages. I was able to carpenter it from part of an old kitchen sofa that my grandfather made a long time ago. The sofa was a wreck, but the sides of the furniture were whole. It's always fun to be able to reuse something that my predecessors left behind. With saw and soap, it became like new.
Christina; There aren't really any normal days. It depends on whether the café is open – then I bake and make porridge. In between, I try to further develop myself and learn more about food crafts, cultivation and how to become a better entrepreneur. Fortunately, there are many courses that go digitally.
What do you think about the future?
We are excited about our crops. We already have our own rhubarb and our own potatoes for our food craft. This summer we will also grow lettuce, cabbage and other vegetables that require more care. Contact with the earth feels important.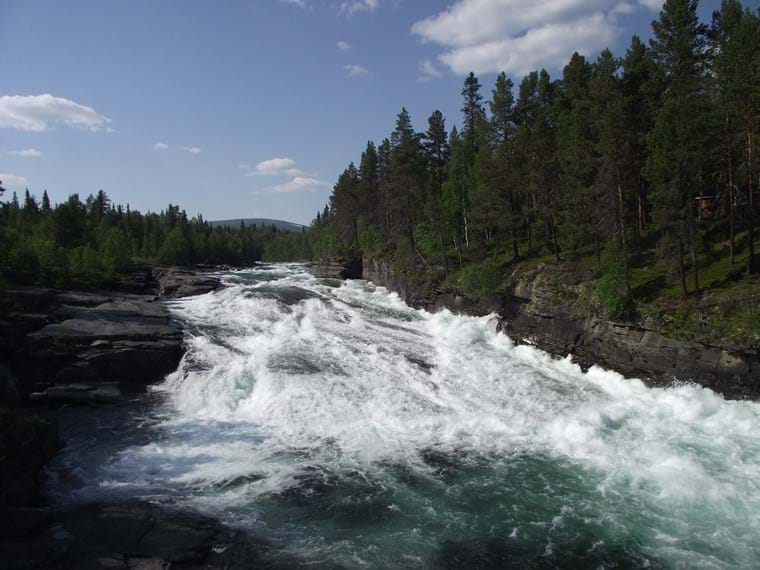 Despite the pandemic, we have still managed to increase sales. Right now we are in the process of upgrading the cabins a bit – new stoves, refrigerators, etc. It feels inspiring and we feel proud of the facilities. We have talked about arranging opportunities for "work parties" with us – a family that comes on vacation, but where someone has to be able to work one or more days at a desk with internet access while the family has a good time.
You also notice in the village that you have longed to meet. It's hopefully the same longing across the country. We hope that many people come here to Ammarnäs for experiences and a quieter holiday. A holiday where they have time to talk, eat a proper breakfast, hike, fish or just sit down on a stump in the woods and unwind. Here is our fantastic Potato Hill and genuine people with curiosity and trust.
So we look forward and hope for the summer of 2022, despite the unrest that is going on in the world. We hope the summer of 2022 will be a new start as the hospitality industry is very important in our company. We have so much to offer guests and look forward to sharing all the good things.