A bath in the atmosphere of the forest
Shinrin Yoku, so-called forest bathing is much as it sounds. A bath in the atmosphere of the forest. A bath that puts the focus on your senses. A bath where you can rest in stillness. "Some people are afraid of the forest. Perhaps for various reasons, experience or lack of knowledge. The forest is not dangerous. It's big but it gives so much back," says Cornelia Lohf.
It's a chilly day at the end of April. Stubborn patches of snow linger on the ground and fresh winds grab my jacket. I meet up with Cornelia Lohf in Granö for today's activity, Forest bath!
Cornelia is a trained coach, lecturer and has many years of experience in guiding people. The forest is for her a place of recovery and relaxation. A place to exhale and find peace.
Cornelia Lohf
- I've always worked with people and I'm inspired by guiding people. It's amazing! I like to be close to nature and nowadays I live in the middle of the forest. After a busy week, it's nice to just be able to open the door and step out. Straight into the forest and gather energy, says Cornelia
Swimming in the forest?
Sure, swimming in a stream or in a river I've tried, but this is something completely new to me. I ask Cornelia to tell me more. What is Forest bathing?
Shinrin Yoku - Forest bathing, even quickly simplified bathing in the atmosphere of the forest is about the healing power of the forest - how the forest affects us.
The positive effects of forest bathing are primarily due to "terpenes", molecules secreted by the trees of the forest, which directly affect our immune system by strengthening it. Many of these terpenes can be smelled, they are part of the forest air. But also the rest of the atmosphere of the forest. It can be the sounds of the forest, the silence or the many soothing green tones, which have a strong relaxing effect on humans.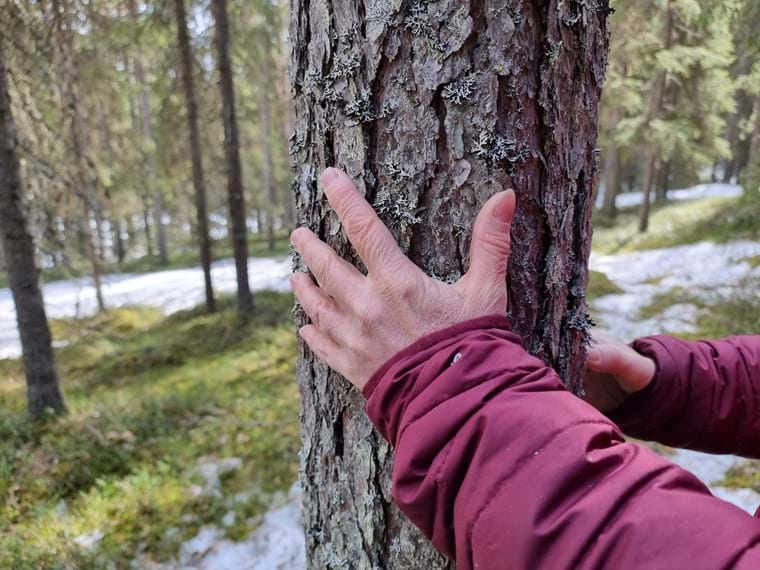 - Forest bathing is suitable for everyone, but above all stressed people who live a stressful life," says Cornelia.
Time for a bath
Cornelia gives me a sleeping pad and a blanket. We walk together to a wooded area a few hundred meters into the forest. We'll find a place to stop. Cornelia goes on to talk about the positive effects of the forest bath and her own experiences.

- It's about listening inwardly. Let go of anything that is about control, goals or time pressure. I start from the individual. You as a participant participate on your premises, there is no right or wrong, says Cornelia.
We sit down for a while in silence. Listening to the hiss of the wind and the faint chirping of birds. I feel safe in her company. Undemanding and glorious. Just what most people need in our time's increasingly stressed existence. I am tasked with finding a stable place to stand. - Relax and close your eyes.
Cornelia instructs me in a calm voice. I feel my shoulders relax and the soles of my feet get closer to the ground. My whole body ends up in a vacuum. I relax. Am I sleeping?
Cornelia says slowly:
- When you feel ready, open your eyes and slowly come back
After the first exercise, I feel a little slightly sleep-deprived. A calm feeling occurs throughout the body.
-Some people are afraid of the forest. Perhaps for various reasons, experience or lack of knowledge. The forest is nothing dangerous. It's big but gives so much back, Cornelia 

The next exercise is about connecting with one's senses. I visualize and let the thoughts come. We go through every sense, smell, listen,sights and taste. Cornelia guides my thoughts and asks questions to focus on, what do you see, what do you hear and how does it feel?
Walking meditation
My last task is to go in different tempo changes. Normal speed, halved and quarter speed. Going slow, shifting focus and finding a natural speed is harder than you might think.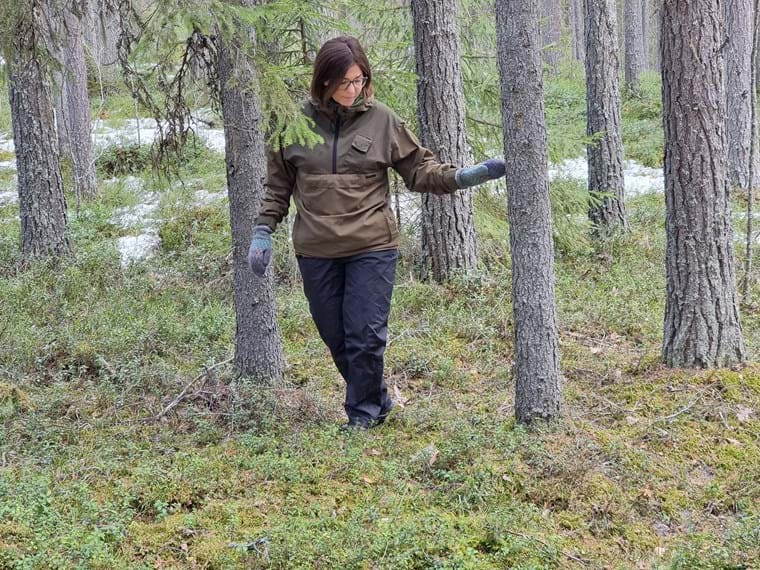 - It's about finding an inner balance. If you go fast, focus on a target. Slowing down becomes the focus on your feet, how you walk and move. An important exercise to understand the difference between goal picture and inner balance, says Cornelia.
After today's exercises, I am tasked with packing all my senses into a bag. Carry me home and bring them out when I need them.
What a treasure!
INFO
• What is forest bathing? Forest bathing is a form of mindfulness out in nature. They are practiced in a number of countries and have been around for many years. Originally from Japan and from Japanese, it means "bathe in the atmosphere of the forest"
• Why is it good? SLU- Research shows the effect of trees. Terpenes are released in the forest and positively affect us. It has a relaxed effect
• For whom? Suitable for all people of all ages. Mainly people who live a stressful life and want to pick up energy and tranquility
• When is the best time for a forest bath? Always - the healing terpenes can be found in the forest all year round! Concentration is strongest during the summer as well as during fog and rain. That's when you also feel their smell at its strongest.