Ice climbing with Patrik
The thermometer shows -16 degrees Celsius in Lycksele this Sunday in February. Patrick Edin, guide at Forsknäckarna, has called together an excited group to try ice climbing, and everyone is super pumped!
The group includes myself, Sofia, from Gold of Lapland, Mats Gunnarsson from Ansia Resort and Johan Eriksson, adventure enthusiast from Umeå. For me, this is the first time I try this sport. The others are more experienced.
We drive from Lycksele towards Maltbränna, a microscopic village with one of Västerbottens most coveted icefalls, but hey, say nothing to anyone!
Patrick Edin usually thrives in large rapids in the Vindelälven river, but adventures in the winter are just as enticing.
- I started climbing in the 90s, that's when I discovered how fun it was. When we discovered that it is possible to climb in the winter, it became a completely new dimension to the adventure, says Patrick.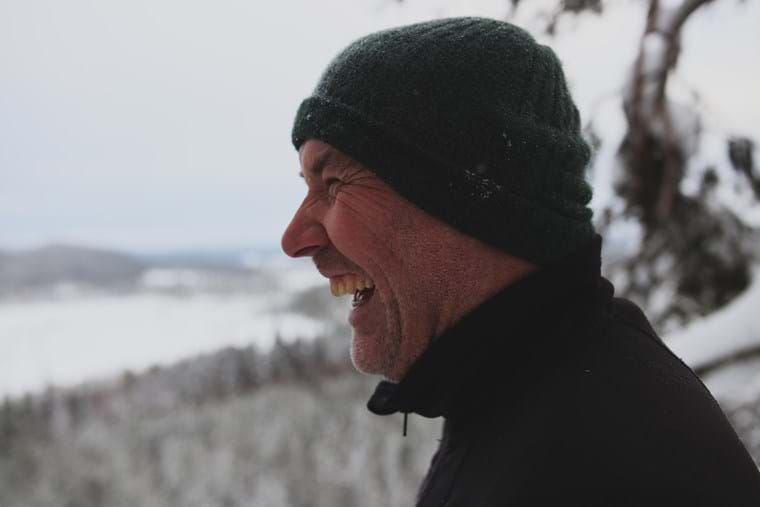 He and his friends started climbing in Falåström on an icefall that was about 10-12 meters. Later they discovered Maltbränna with their 25 high meters. The adventure guides at Forsknäckarna have guided a number of groups here, but so far rafting is their most booked experience.
- I like the adventure, being out with guests and having fun is the best thing I know, says Patrick.

A magnificent wall of ice
It is not easy to find the place from the road, no signs to where it´s located, but Patrick manages to find place. This winter have offered a lot of snow so snowshoes are included if there is no trail. Fortunately, some climbers have already been there and prepped the trail. We strap on the equipment by the car and start out hike through the snow. The first wall we see is small with magnificent icicles of just over 1.5 m. I am already impressed but there will be more. To the left, the trail continues and a huge (in my opinion) ice wall shines in the white snow. So here we are going to climb.
When ice climbing, the climber goes up with the help of crampons and ice axes. I ask Mats how long he has been climbing.

- Yes, it's probably since sometime in the 80s, I think.

With that information, I feel like clearly the worst in the class, but safe with experienced climbers. Johan Eriksson gives some instructions on how to put the ax in and how I have to tilt my heel down for the crampons to get a grip on the wall. Patrick and Mats have gone up to attach the top fuse. It starts to contract and the nervousness picks up.
Patrick gives me the last information, it's already too late. The unvarnished truth is that I tore up a hole immediately I was going to test step. Perfect! Rule number one, take soft clothes. Just getting a foothold is a real challenge for a newbie like me. I feel like a cat hanging in the claws of a sofa edge. After a few steps and cramping hacking with my left hand, I give up after a few meters… Afterwards, my hands are so cold that I can barely speak. Rule number two - be warm-blooded or wear super warm gloves.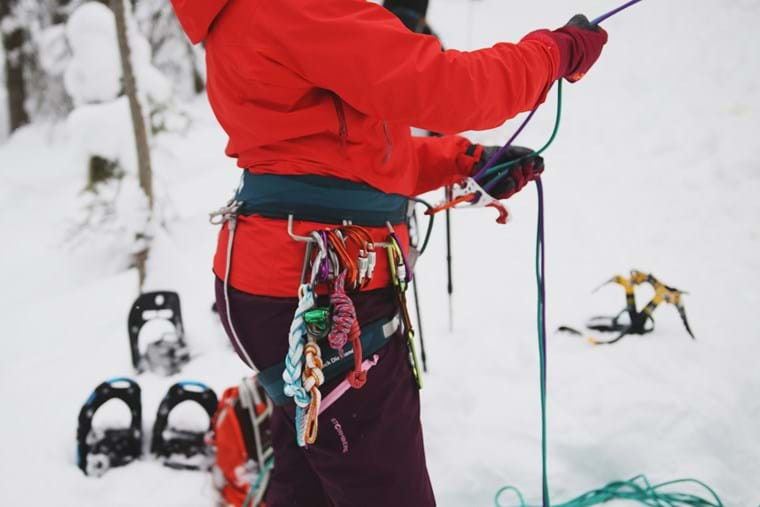 Snow, ice and frozen fingers
Then it was Mats turn. Johan has climbed down from the top to take some pictures from above and asks Mats to climb a little higher. Further up, icicles hang straight down and it does not look quite as stable as the massive ice wall further down, but everything is going well.
Round two for me - now I pull up my pants to the knee crease, put on my thick mittens and hack on with the mantra The only way is up!, which by the way is rule number three. This time things are much better. After maybe five meters I am satisfied so I jump down. Very satisfied!
After everyone have walked the wall, we bring out coffee and admire the nature we are in. Snow is gently falling down and both peace and satisfaction are poured in after both fitness and silence. I can state that we locals do not even know half of the magical treasures that exist in our nature.
So - how difficult was it then?
As with much else, much harder than you think, but super cool!
Story and photos by Sofia Johansson